The Simple Lunchbox checklist: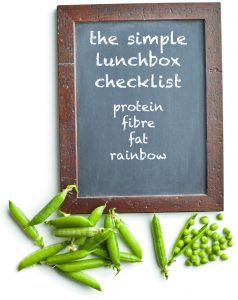 What does a healthy lunchbox look like? What should it do?  Our bodies are clever, and will use what they are given to keep us functioning as best we can, and despite our differences, there are certain food groups that are always needed such as protein, carbohydrates, fats, colour and water.
It is important to find balance between providing our bodies with the right nutrients – not enough or too much of certain nutrients can leave us feeling not quite right – for example, tired, hungry, grumpy, jittery, stomach pains, headaches, queasy, sneezy, itchy, smelly, bloated, forgetful, agitated, nervous, restless, silly…
Protein:
Meat, legumes, yoghurt, grains, seeds, eggs
Add meat or beans to salads & wraps
Higher protein grains (quinoa, buckwheat, teff)
Add yoghurt & seeds to smoothies & fruit
Use legume flour for baking (chickpea flour)
Snack on boiled eggs, yoghurt and homemade trail mixes for filling lunchbox additions
Fibre:
Whole fruit, whole grains, beans, legumes, seeds
Peel or cut fruit for little hands
Choose wholegrain breads & wraps
Add beans & legumes to soups, stews & salads
Add seeds to salads, yoghurt & smoothies
Blend beans and legumes with roasted vegetables and yoghurt for a quick dip
Sprinkle porridge, yoghurt, smoothies and fruit with nuts or seeds
Fat:
Avocado, coconut oil, seeds, olive oil, nuts, dairy
Use avocado as a spread or dip
Add avocado and seeds to smoothies
Dress salads with good oils (olive, avocado)
Bake with coconut oil
Add a drizzle of olive oil to soups, risottos, steamed vegetables
Colour: 
This means fruits and vegetables
Eat the rainbow everyday
Red, Orange, Yellow, Green, Purple
Pre-chop vegies at the start of the week to serve with dips, add to rice paper rolls or salads
Aim for a few different colours at every meal and snack to add to a rainbow a day
Where possible, everyday lunchboxes should try to be free from fake foods such as preservatives, additives, artificial colours, flavours and sweeteners.  A general guide is that many of these ingredients are identified with numbers on food labels.  Some foods should be avoided, kept for special occasions or 'sometimes' foods.  Here our top 5 picks to avoid in lunchboxes:
Packaged biscuits, muffins, muesli bars:
Often high in salt, sugar and trans fats or hydrogenated oils, these options are high in calories leading to spikes in blood sugar and energy reserves that don't last long, resulting in energy slumps, tiredness, irritability and inflammation, and is strongly linked to weight gain.
Sugary drinks:
Soft drinks, sweetened fruit drinks, cordials, flavoured milks, breakfast drinks, iced tea, sports and energy drinks are often laden with sugar, salt, colouring and sometimes caffeine and other stimulants that are not at all necessary for growing children, effecting behaviour and exacerbating immune conditions such as asthma, eczema and headaches.
Flavoured chips, biscuits and crackers:
Often made with refined grains, and covered with salt and artificial flavours, these choices are high in 'fast' energy, and unhealthy fats which can affect immune function and inflammation.
Processed meats:
Store-bought salami, kabana, Strasburg, chicken loaf contain excessive salt and are preserved with nitrites.
Dried fruits preserved with sulphites:
Dried fruits can be a great snack option in small quantities such as when added to a trail mix. However, the drying process leaves the fruit rich in sugars (albeit natural), but without the additional nutrients found in a piece of whole fruit, can also lead to blood sugar spikes.  Commercial dried fruits are also preserved with sulphites that are strongly linked with immune conditions affecting the skin and respiratory system, as well as headaches and behavioural changes.
The Simple Lunchbox
The Simple Lunchbox is ever-changing and growing. Check in with us for simple, healthy lunchbox inspiration to nourish your little ones, navigate health hurdles and help to grow happy, healthy and resilient kids
Naturopathy Appointments
For additional, personalised support, book online for a naturopathy consultation here.