We've healthified your faves, and (mostly) swapped the most famous allergens for another yummy ingredient.  If you find that a recipe isn't quite the best fit for your family, scroll down to the end of each recipe, where we share our best tips on how you can swap and change ingredients to suit your kids taste buds and needs.  We know that what nourishes one, may not suit another, so flexibility is key. 
At the start of each recipe, you'll find a list of tags to help you navigate what you're looking for.  We'd like to draw your attention to the FREEZABLE and LEFTOVER tags.  Meal planning and having a stock pile of foods for the week (or even month) ahead is one of our favourite tips to running a smooth lunchbox routine.  Whilst 'routine' can sometimes spell 'boredom' or even 'waste', we love to use the freezer as a treasure chest of choice.  Spending an hour or two to bake up a batch or two of bulk snacks that can overlap a week, and you'll have options for Christmas.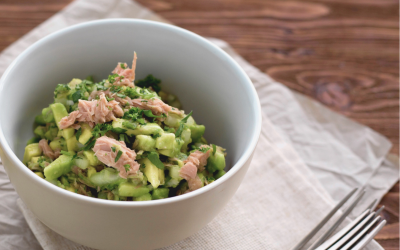 Super quick and versatile dip of tuna and avocado to use as a dip, spread, topping or salad. High protein, high fibre, healthy fats, full tummies, long-lasting energy.
read more
The Simple Lunchbox
The Simple Lunchbox is ever-changing and growing. Check in with us for simple, healthy lunchbox inspiration to nourish your little ones, navigate health hurdles and help to grow happy, healthy and resilient kids
Naturopathy Appointments
For additional, personalised support, book online for a naturopathy consultation here.